This dress was made using fabrics from the
Pat Bravo Essentials II
line generously donated by
Art Gallery Fabrics
. Thank you Art Gallery Fabrics; we love them! These wovens are made with 100% PIMA cotton and have a lovely smooth hand.
Though the first thing I noticed about the Naples Dress when I saw it was the fun sleeves, my favorite detail is the neckline. This dress pattern has a crossover neckline that is shaped so that it gives a keyhole-like look. The neckline can then be finished with bias tape to tie or button, or a wide bow. I made the bias tie option. I wish I would have made the ties a little bit longer though. It isn't quite long enough to make a bow; not that my daughter cared. She loves it the way it is; but I think I might remove the ties and make a button version.


The little basket was completely my daughter's idea by the way. I have learned that allowing her to use props if she asks for it makes the photoshoots much easier. And with all these lovely daffodils blooming in my backyard the basket was perfect for holding the picked flowers.
Okay, so back to the dress! My daughter also chose each option she wanted for the neckline, sleeves, and skirt. This is the A-line skirt version. I love the lines of the A-line skirt, but if you prefer a fuller skirt there is also a gathered skirt option. Furthermore, both skirt options can be made in dress or tunic length.


I was a little bit surprised that she chose the long bell sleeves because in the past she wasn't so crazy about this style. However, I think it was a perfect choice. The bell sleeve lends wonderfully to the bohemian feel of this dress. She just wanted to keep lifting her arms and twirling about.
The other sleeve options include butterfly, and mid length bells. And there is also the sleeveless option, of course.
Another lovely detail of this pattern is the hi-lo empire waist. How fun is that? I added piping along the waistline because, hello, it's piping! We love piping.
When my daughter finally took this dress off she ran to the laundry room and exclaimed that she wanted to wash it so she could wear it for Family Engineering Night at her school. Yeah, that's definitely a win!
Do you love it? Yes? Then I have good news for you: Get 25% off your entire order with code NAPLESTOUR through Sunday March 27th! (Bundles excluded)
But that's not all... Enter to win a fat quarter bundle of Pat Bravo Essentials II fabrics and 3 patterns from Jennuine Designs!
a Rafflecopter giveaway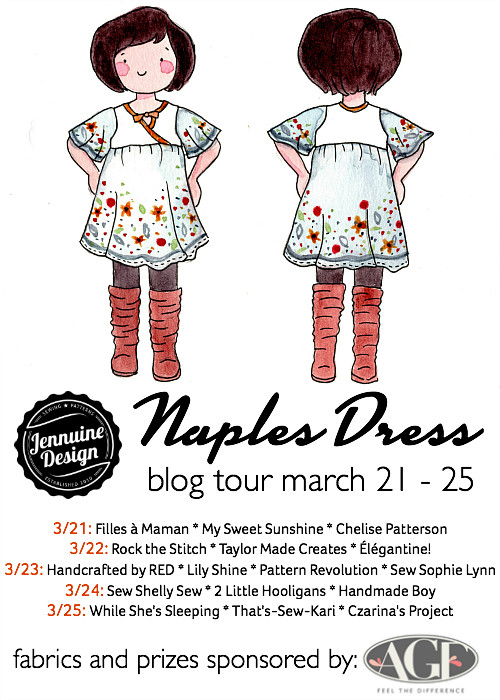 3/21:
Filles à Maman
*
My Sweet Sunshine
*
Chelise Patterson
3/22:
Rock the Stitch
*
Taylor Made Creates
*
Élégantine!
3/23:
Handcrafted by RED
*
Lily Shine
*
Pattern Revolution
*
Sew Sophie Lynn
3/24:
Sew Shelly Sew
*
2 Little Hooligans
*
Handmade Boy
3/25:
While She Was Sleeping
*
That's-Sew-Kari
*
Czarina's Project
Thanks for having me on the tour Jenn!